Interior and Egress Lighting Calculations
Previous Feature: Switching - Next Feature: Outdoor Site Lighting Photometrics
Design Master Electrical allows you to perform your indoor photometric calculations in AutoCAD. You no longer have to mess with cumbersome dxf files or transporting designs between AutoCAD and a third party photometric program. You can perform both zonal cavity lighting calculations and point-by-point egress path calculations.
Easy to Build Rooms
Use Design Master Electrical to trace the architect's background and add photometric information to the rooms.
Use IES Files to Create Accurate Lighting Calculations
Attach IES files to the light fixtures and Design Master Electrical will calculate accurate footcandle levels.
Use AutoCAD Grips to Edit Rooms after Architectural Changes
When an architect alters the layout of their rooms, Design Master Electrical allows you to easily modify your rooms to match, and then redo the calculations. Just use AutoCAD grips or the stretch command.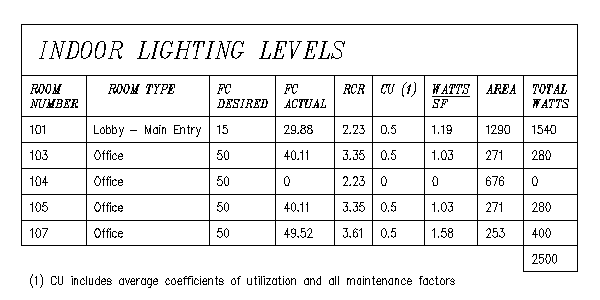 Lighting Level Report
Design Master Electrical will generate a report in AutoCAD showing the lighting levels and energy usage of each room. The report includes the desired lighting and energy usage levels, as well as the actual designed levels. This allows the designer to quickly evaluate how well their design meets the requirements.
Calculations Automatically Update when the Design is Changed
Whenever the designer adjusts a room boundary, a light definition, or anything else related to the lighting design, the calculations are automatically updated.
Egress Path Footcandle Levels
Design Master Electrical can perform interior point-by-point calculations for the purpose of showing lighting levels along an egress path.
Standard Lights Also Work for Egress Calculations
The egress lighting information is contained in your standard light fixtures. You do not need a separate set of light fixtures to perform the calculations.
Egress Path Boundary
Egress path areas can be drawn on any AutoCAD drawing that you are working on. Work on your normal lighting plan without having to duplicate any of your work.
Previous Feature: Switching - Next Feature: Outdoor Site Lighting Photometrics