Switching
Previous Feature: Homeruns and Loops - Next Feature: Interior Lighting and Egress Calculations

"The great benefit of Design Master for us is the huge amount of time it saves."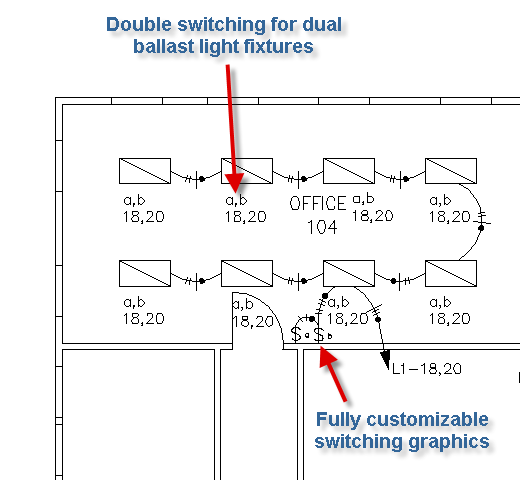 Double Switching for Dual Ballast Light Fixtures
Design Master Electrical can create light fixtures with multiple ballasts. This allows you to circuit lights to both a normal and an emergency power panel, for example. You can also assign each of these ballasts to a different switch.
Fully Customizable Switch Graphics
You get to decide what your switch graphics will look like. Design Master Electrical makes it easy to customize our blocks to match your exact standards so your drawings can keep the look and feel that your customers have come to expect from your firm.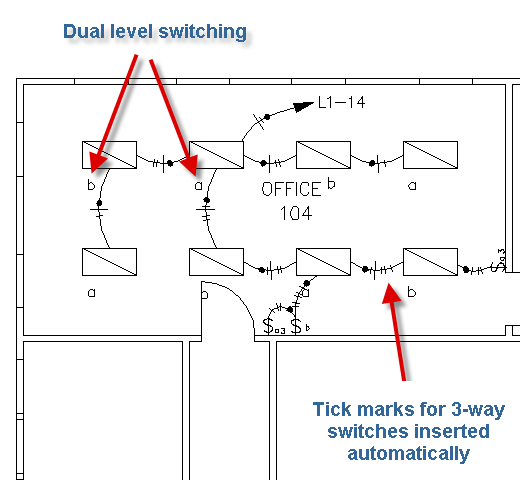 Dual Level Switching
Design Master Electrical allows you to design lighting layouts with dual level switching and clearly convey that information on your plan.
Tick Marks for 3-Way Switches Inserted Automatically
The tick marks for 3-way switches, including switch legs and travelers, are automatically inserted on the circuit loops.
Previous Feature: Equipment - Next Feature: Interior Lighting and Egress Calculations
19401 40th Ave W, Suite 302
Lynnwood, WA 98036
©2001-2019, Design Master Software, Inc