Homeruns and Loops
Previous Feature: Equipment Connections and Motors - Next Feature: Switching

"I can't praise Design Master enough. It cuts the time it takes to produce our designs by about 90%. The software has saved us from having to hire four or five different people."
Design Master Electrical is equipped with tools and functions that allow you to quickly draft your homeruns, circuit loops, and circuit tags. It also makes it easy to quickly change your homeruns and loops as the design changes.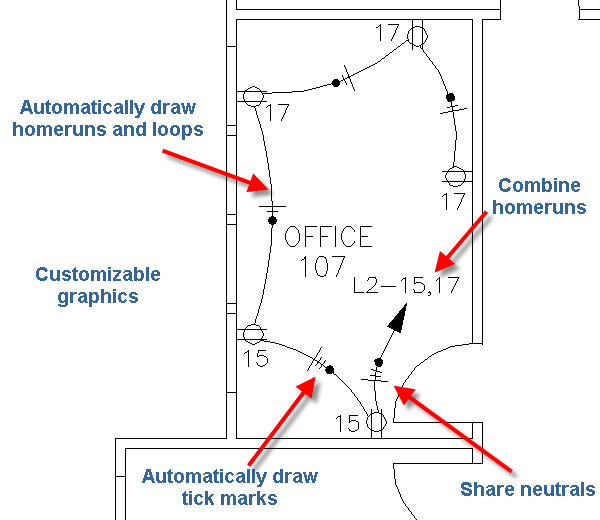 Automatically Draw Homeruns and Loops
Design Master Electrical will automatically draw loops between devices that have been assigned to the same circuit.
Customizable Graphics
There are many different ways to draw homeruns, tick marks, and circuit tags. Design Master Electrical allows you to customize the graphics to match your company's existing standards.
Combine Homeruns
Multiple circuits can be combined in a single homerun.
Automatically Draw Tick Marks
You have the option to automatically draw the appropriate tick marks for each loop and homerun.
Share Neutrals
Neutrals on combined homeruns can be shared whenever possible.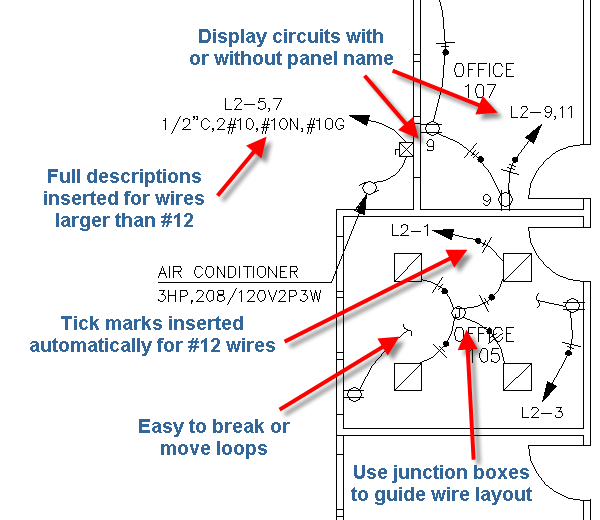 Display Circuits with or without Panel Name
Depending on how much information you want to display on the plan, you can choose to include the circuit with or without the panel name, or hide it altogether.
Full Descriptions Inserted for Wires Larger than #12
Homeruns with wires larger than #12 will have full wire callouts displayed.
Tick Marks Inserted Automatically for #12 Wires
Any homerun that uses #12 wires will have tick marks inserted automatically. You can also show full wire callouts for homeruns with #12 wires.
Easy to Break or Move Loops
The loops drawn by Design Master Electrical can be easily moved, redrawn, and broken to achieve a clean appearance. The loops can also be turned off completely if desired.
Use Junction Boxes to Guide Wires
Junction boxes can be used to provide an even more detailed image of how each circuit will be wired together. This can be used to create accurate shop drawings for electricians in the field.
Previous Feature: Equipment Connections and Motors - Next Feature: Switching