Most items are counted in the takeoff feature for Design Master Electrical inside of areas on a drawing. We intentionally limited the counts to items actually displayed on the drawing rather than in the database. This helps provide you with control over what is being counted.
However, there are some items, including what Design Master Electrical collectively calls "one-line devices", that do not appear on drawings. We had to add a special button to print takeoffs for these devices, because they will not be included in the counts from areas.
Interestingly, the one-line device takeoff always generates more interest than the area takeoffs. The breaker totals are what people seem to find most exciting.
Each one-line device, be it a panel, transformer, switchboard, or something else, is listed individually in the takeoff. The relevant information for the device is displayed. Below the device, the size and number of breakers on the panel are listed.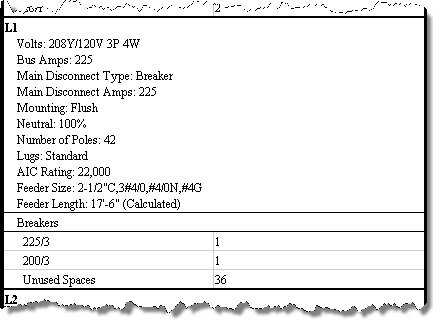 After all the devices are listed, the total number of breakers in the project are listed. These are broken down by voltage, AIC rating, and size.
The last section of the takeoff lists all the feeder lengths. These lengths are separated into fixed and calculated lengths. Fixed lengths are ones that are entered manually by the user. Calculated lengths are ones that are determined based upon the locations of the panels on the drawings.