Stockton, CA
September 2011
---
Design Master Electrical Helps DLJ Electric Find Its Niche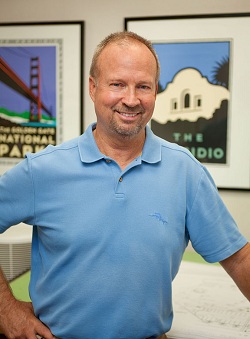 DLJ Electric is a full-service electrical design/build company based in Stockton, CA. Reflecting founder Dave Jackson's 35-plus years of experience in the electrical construction industry, the firm prides itself on a "common sense approach" to electrical design, estimating and construction installation. Its design/build project portfolio includes banks, churches, office complexes, wineries and manufacturing facilities.
According to Mr. Jackson, "We're a small company with a handful of guys in the field. To make more money with fewer people, we need to pick the projects that are right for us. That's why Design Master Electrical works so well for us – it lets me do more designing in less time and be more efficient and effective overall."
"We're at the mercy of our clients' schedules every day," Mr. Jackson continues. "I need to be better and faster at what I do here at my desk; not only so we can respond quickly for clients, but also so I can spend more time in the field.
"Right after we got Design Master we had to rush some plans in for permit. I had less than five days to design a 70,000 sq. ft. plastic molding plant, with lots of lighting and 1,200 amps worth of injection equipment. And the design kept coming back from the client for changes. Design Master allowed us to get that plan in on time. And then it sailed through permitting," recalls Mr. Jackson.
An aid to higher quality designs
"Another reason Design Master works so well for me is that it guides you to design 'practically,' and that's how I like to design based on my experience in the field. Design Master helps you line things up so your plans make sense and are efficient to build.
"When contractors see my plans they know immediately that this is something they can work with, and that the cost estimates I give them reflect a good understanding of the installation side of the job.
"In comparison to many electrical design contractors I've seen, our plans are very clean and thorough. Design Master lets you put all those line weights and layers and everything in place with just a click – it's such a slick program. I often hear favorable comments from clients. When I send out samples they impress people. This builds confidence in our work, and it makes plan check so much easier. Design Master makes it easy to choose DLJ Electric, and it creates future opportunities as well.
Love at first sight
"I can work with a smaller team, make more money, get the projects I want, and turn changes around quickly for clients."
Dave Jackson, founder
"I came across Design Master Software when I was surfing the web for something to help me calculate panel schedules," Mr. Jackson remembers. "At the time I was doing them longhand. I used AutoCAD and had a little boilerplate off to the side. If anything changed, I'd have to manually change my schedules, and that certainly took time."
"When I came across Design Master I stopped looking for anything else. It does so much more than just help with panel schedules, and it's very affordable. I figure one job pays for the license for a year.
"Design Master Software also has great support. Around the time we bought it I had major surgery. They kept extending and extending the demo period until finally I could get around to trying it. Once you see what it can do it's a no-brainer in terms of purchasing it.
"We really enjoy how easy it is to use and how well it works for us. And if I have a question I can call or send a quick e-mail and get a reply right back that usually answers my question. If necessary they'll take over my computer and walk me through… They're always there. They're proud of their program and they want to make sure you get the most out of it," Mr. Jackson adds.
Finding the right niche
"Thanks to Design Master Electrical my company is more efficient and effective," Mr. Jackson summarizes. "I can work with a smaller team, make more money, get the projects I want, and turn changes around quickly for clients. We're also winning business by providing a better design.
"All that supports the niche we want to be in: maximizing profitability and meeting the needs of our customers. That's doing it right."