Atlanta, GA
February 2012
---
Proficient Engineering Gets the Job Done Ten Times Faster with Design Master HVAC & Electrical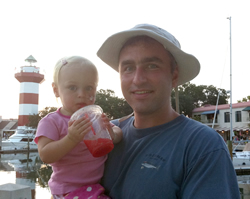 Proficient Engineering, Inc. is a full-service MEP engineering firm located in Atlanta, GA. Established in 2008, the company has been successful in a challenging economic environment by providing responsive service and high-quality, highly accurate work at a competitive cost and in alignment with each client's needs.
Proficient Engineering currently has a staff that includes six engineers. Recent projects include retail spaces, fitness centers, schools (both new construction and renovations), hotels, restaurants, medical centers and office buildings.
According to Paul Kenney, PE, one of the most important factors in Proficient Engineering's success has been its use of Design Master Electrical and Design Master HVAC.
Streamlining the Design Process
"We were going full-bore within a year after starting the business. Our chief electrical engineer loved Design Master Electrical for all the calculations it did automatically, and how it sped up his work while improving accuracy," relates Mr. Kenney.
"After a few months of hearing him rave every day about the software, I tried the HVAC version. I'd been doing things the same way for years, but I was instantly converted when I saw how it automatically calculates heating and cooling loads inside AutoCAD – it's just mind-boggling how much work it saves.
"For example, last fall we did an elementary school which consisted of about 57,800 sq. ft., with four wings. Based on experience with traditional methods, I told my junior guy to plan to work on the heating/cooling loads for about a week. He got back with me that afternoon and said 'They're done!' Design Master had cut his work time from five days to less than four hours.
"With Design Master HVAC, the way it automatically does calculations in AutoCAD just changes everything. All the air flows and so on are assigned to rooms so when you're laying out ductwork you're not having to get information from other software and then input it back in – everything just flows so much faster.
"I can't praise Design Master enough. It cuts the time it takes to produce our designs by about 90%. The software has saved us from having to hire four or five different people."
Paul Kenney, PE, CEO
"I can't praise Design Master enough. We used to have to do takeoffs from AutoCAD, import them into a loads program, then dump that data into a custom Excel spreadsheet, then put it all back on the drawing. Design Master does all that automatically and accurately right in AutoCAD – which cuts the time it takes to produce a design by about 90%," asserts Mr. Kenney.
Reducing Operating Costs
"Design Master impacts the whole structure of our company, our growth and profitability, and the amount of work we can produce with our current staff," explains Mr. Kenney. "The software has saved us from having to hire on four or five different people."
"Because we're so productive right now, we're not under pressure to hire more people to deal with fluctuations in the amount of projects coming in. The huge volume of work you can do with a few good engineers who are proficient with Design Master completely changes the dynamics of staffing in relation to business growth.
"Our first year in business we got pretty busy and it was looking like we'd need to hire more people. That would've been a big headache and financial stress, especially because things slowed down the next year. But with Design Master, we can grow the business more organically and not take those risks," Mr. Kenney explains.
Competitive Differentiation through Superior Product Quality
"Some of our competitors are out there drawing single-line ductwork," Mr. Kenney continues. "Design Master's ductwork looks a lot more professional. It's also very helpful to architects and contractors in coordinating whether the ductwork will actually fit, because they're looking at a true representation of the actual size of the duct to be built. It's a lot more like a full shop drawing.
"We also save our customers money because we can produce more accurate and therefore more cost-efficient designs. We can size equipment more accurately so our client's aren't over- or under-building. For example, with Design Master we can quickly calculate and schedule accurate airflows and static pressures, which allows us to confidently size motor and fan capacities without having to oversize equipment with safety factors.
"Without Design Master, static pressure calculations and that kind of thing would take a lot of engineering time. You'd have to do a takeoff on a whole duct run, put it into another program, and so on. So most firms just guess or use rules-of-thumb. With Design Master all that takes just a few minutes – so we can do it right even on short schedules.
"The benefits of that higher quality product come back to us all the time in the form of goodwill, referrals and repeat business. Contractors call us all the time just to tell us how much they like our drawings."
More Time Saved through Elimination of Errors
"Design Master saves us time not only on the design part of the job, but also on the construction part, because of how it eliminates errors and helps us do such high quality work. We haven't had a single issue to speak of where we've had to correct a mistake, over three years and about 280 completed projects, going through permits and everything else," relates Mr. Kenney.
"We've never had a single call from a contractor where a circuit was not coordinated with a panel, a duct was sized incorrectly, etc. We've had no issues with any of that, which normally causes lots of hassles responding to RFIs and making little revisions. And things always go really smoothly at permitting time. For instance, because of the way Design Master automates the ventilation calculations, we produce that for a permit set even on small projects. We've had zero issues with code reviews as far as outside air calculations."
Conclusion
"For this business, the bottom line is the amount of work we can produce with the quality engineers we have," Mr. Kenney summarizes. "It's great to know that as the economy improves we can do so much more with our small staff."
"Because everyone is proficient with Design Master, we're profitable right now – but we're only doing 20% or 30% of the work we could potentially handle. Without Design Master we'd be at 80% to 90% of capacity right now.
"Design Master changes everything. It lets you scale your output up and down with the flow of work, so you can stay profitable and serve your customers with minimal staff.
"Design Master is not just some CAD software that makes your ductwork and electrical symbols look pretty. It enormously increases your productivity and efficiency. The whole engineering process you're doing towards creating your design is streamlined and improved.
"Not only can we run ductwork faster but we can run the loads faster and we can get the calculations converted into our final product ten times faster than we could before.
"When I look at spending $800-something dollars on a license for software that's saving us hundreds of thousands of dollars on salaries, while also greatly reducing our business risk and giving us a competitive edge… it's kind of a no-brainer," Mr. Kenney concludes.