Jackson, MO
May 2012
---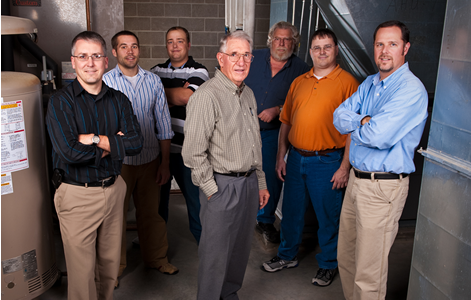 Strickland Engineering MPE Team
Left to right: Shawn Weber, Neil Randol, Aaron Wright, Tom Strickland, Terry McCanless, Marc McElveen, Mark Strickland
Not pictured: Ben Wachter
Strickland Engineering, LLC is a consulting engineering and land surveying firm based in Jackson, Missouri. Established in 1979, the company provides mechanical, electrical, plumbing, civil and survey services to a wide range of clients, particularly the educational, senior living/healthcare and commercial sectors.
A well-established and highly successful family business that takes pride in quality work and strong customer relationships, Strickland Engineering currently has fourteen full-time and two part-time employees. "We started using AutoCAD when it ran on a dual-floppy machine," remembers Mark Strickland, owner. "We've always tried to stay on top of the design technology."
Rapid time-to-value
"We went online and found out about Design Master Electrical because we wanted a way to do various load calculations automatically, rather than manually as we had been," Mr. Strickland continues. "We bought Design Master for a specific project and it was a big help right from the start. That was back in 2008. In 2009, we renewed our license and also purchased Design Master HVAC and Design Master Plumbing. Six of the eight people on our MEP team use the software daily now."
Aaron Wright, senior engineering technician (and according to Mr. Strickland, the firm's "CAD guru") adds: "With all the Design Master products, we were able to pick up the software and learn it on the fly and be productive right away. Each time we got a new product we just went through one webinar training and started using it on projects immediately."
"Design Master's support is top-notch," Mr. Wright emphasizes. "But we've rarely had to call them except for help with advanced features and customizations. The basic functionality of the product is very intuitive."
Highest quality drawings
"We've been able to configure Design Master's output to look exactly the way Strickland Engineering always has presented drawings," Mr. Strickland explains. "With Design Master Electrical we get 100% of what we want, and we're very close with HVAC and Plumbing. As a family-owned business with a 33-year reputation to uphold, we take pride in the drawings that go out with our name on them -- we want them to look good."
"When we see a need for something the software doesn't do, we send our 'wish list' to Design Master. They're very good about incorporating our requests into the next update," Mr. Strickland relates.
"Design Master enables us to do more with the same resources, and to work 'leaner and meaner'."
Mark Strickland, Owner
Leaner and meaner
"I don't know how we would put a project out today without using Design Master," states Mr. Wright. "With all the automation it provides, we can do drawings much more efficiently than we could otherwise, and they turn out a lot nicer, too."
"Design Master enables us to do more with the same resources, and to work 'leaner and meaner'," Mr. Strickland asserts.
Faster turnaround on changes
Says Mr. Strickland, "Every job we do is 'We needed it two weeks ago!' and they're making changes the day we're trying to send out the drawings. So the ability to make changes and check them for accuracy quickly is very important.
"The features of Design Master – like the circuit numbers being linked to the panels via the database, so you can change one thing and it auto-updates the panels – that kind of automation makes revisions go a lot faster. On similar projects, we're also able to copy and reuse jobs pretty smoothly, which saves a lot of time."
Compliance with 3D/BIM requirements
"When an architect wants a 3D rendering, Design Master allows us to provide it without doing all the work in Revit MEP," explains Mr. Strickland. "Lately, depending on the architect involved, we've needed to do that about once a project."
According to Mr. Wright: "You can export from Design Master in a standard BIM format, which architects and others on the client side can bring into Revit to perform their collision testing. That has been working for everyone concerned."
"BIM is becoming more prevalent, and we're seeing more and more projects where we need to do that sort of thing. Owners want BIM and that requirement is filtering down to all the consultants," clarifies Mr. Strickland. "Design Master enables us to keep those clients happy without using Revit."
"For what we do as engineers, Design Master is a whole lot easier to work with than Revit MEP," Mr. Wright summarizes.
Improved productivity and job satisfaction
"We like to think that Strickland Engineering is a good place to work," relates Mr. Strickland. "We have almost no employee turnover, and even our newest employee has been with us over five years.
"I want my employees to be productive, so I do my best to give them the tools they need to be productive. Design Master is certainly one of those tools."
"I second that!" echoes Mr. Wright.