BNA Consulting
Salt Lake City, UT
November 2014
---
Design Master Electrical RT Helps Automate Engineering Design in Revit MEP at BNA Consulting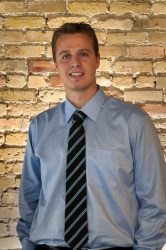 Drayton Bailey, CTS-D, LEED Green Assoc. became an enthusiastic user of Design Master Electrical during his three-year tenure at EDG Engineering in Salt Lake City, Utah. In 2010, Bailey took a position at BNA Consulting, a leading provider of electrical consulting services based in Salt Lake City.
BNA has delivered electrical designs for a number of prominent projects including convention centers, sports venues, museums, libraries, education facilities, office buildings and high-tech manufacturing and warehousing. Recently, BNA provided primary electrical engineering design and consulting services for the new George S. and Dolores Eccles Performing Arts Center.
Like many engineering firms that partner with architects, BNA is often mandated to use Autodesk Revit MEP on projects. The firm's designers have worked directly with Autodesk in an effort to improve Revit's support for engineering design. For example, BNA helped Autodesk create Revit's current panel schedule.
Though he was now using Revit on most projects, Bailey kept in touch with Design Master Software, hoping they would release an add-in for Revit. When Design Master Electrical RT became available, Bailey began using it immediately.
Automates everyday tasks in Revit
"Revit is designed for architects and gives them amazing capabilities," Bailey states. "However, in terms of supporting engineering design, Revit lacks basic features. It can't automatically size a breaker, it can't account for voltage drop—it can't perform a lot of the tasks that engineers must accomplish."
Bailey continues: "For that reason, the value of Design Master Electrical RT is huge for us. It automates many calculations, like feeder sizing and voltage drops, that engineers and designers would otherwise have to do by hand in Revit.
"Design Master Electrical RT takes a lot of time stress off our shoulders and improves the quality and readability of our drawings as well," Bailey observes. "The people behind Design Master really understand all the intricacies, nuances and mundane tasks that people like myself have to do to complete a project. They also understand what information is valuable to us and to our clients, and how we might want to present it."
Supports evolving industry demands
"Working in 3D models presents new challenges for engineers," Bailey notes. "And as buildings become more technologically sophisticated, the level of detail and precision that our drawings must communicate to contractors in the field is becoming greater and greater."
"Design Master Electrical RT gives engineers the software support we need to meet these new demands within the Revit model," Bailey elaborates. "The program is very intuitive and straightforward to use—anybody who understands electrical design can pick it right up."
"We've already used Design Master Electrical RT on some very large-scale and high-profile projects, including the new George S. and Dolores Eccles Performing Arts Center," offers Bailey. "We felt like there were some great acknowledgements and other great things that BNA definitely benefited from."
Big plans for the future
"Design Master Electrical RT saves BNA time and money."
Drayton Bailey, CTS-D, LEED Green Assoc.
Bailey explains: "Architects come to BNA because we have a proven track record and consistently produce superior results. Relationships with architects are the number one factor, bar none, in the success of our business.
"While Design Master Electrical RT saves BNA time and money, what's most important is that it helps us to make our architect clients very happy. Our documents reflect that we've considered all the elements the project requires, thus eliminating problems and saving time in construction administration.
"That value goes straight to BNA's bottom line. It also enables us to get home a little earlier, or take on another project we'd otherwise have to pass up.
"Design Master Electrical RT can add significant value on any size project that requires Revit. We plan to use the software even more going forward," Bailey summarizes.