Current Electrical Construction Company
Portland, OR
October 2014
---
Design Master Electrical is "The Right Tool for Our Industry" at Current Electrical Construction Company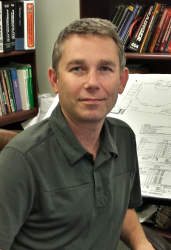 Current Electrical Construction Company is a leading design/build electrical contractor serving the Portland, Oregon and southwestern Washington area. In business for almost 30 years, the firm specializes in a wide range of commercial and industrial projects, such as manufacturing buildings, warehouses and cold storage facilities. Current Electrical presently employs about twenty people.
Current Electrical has been a Design Master customer since 2004. According to Kieran O'Brien, Vice President of Operations, "It's one of the most important tools in our arsenal. We use the software for every project where we need to provide a plan."
Engineers as you design
"The fact that the software engineers as you design is a great benefit," Mr. O'Brien offers. "It does so much automatically, which accelerates most aspects of the design process, especially calculations."
"Another great thing is that it lets you create custom design elements. We've developed a whole library of unique parts and pieces that we use to save time and make our plans more clear and consistent," Mr. O'Brien adds.
Accelerates changes
"There are going to be changes on every project, and Design Master makes moving, removing and adding systems really quick and simple to do—particularly compared to the old-fashioned way of adjusting each component each and every time," states Mr. O'Brien. "For example, it greatly simplifies the process of modifying plans to reflect what was actually done on the jobsite so we can submit them as as-built documentation."
The key to success
Mr. O'Brien continues: "We use the majority of the features Design Master offers, including many of the new capabilities they're always adding through upgrades. My favorite lately is the ability to 'name a room' on your panel schedules, which helps our electricians understand which circuit is utilized for the power in a specific room or location in the building. Little things like that help in the design and communication of our plans, as well as in their implementation out in the field."
"Design Master does so much automatically, which accelerates most aspects of the design process, especially calculations."
Kieran O'Brien, Vice President of Operations
"Communication is the key to success on all construction projects. How your plans are laid out and how they communicate your electrical ideas is very important—which is another big reason why I appreciate Design Master.
"Because it improves communication, Design Master saves time and effort for our electricians and saves money for our customers," Mr. O'Brien asserts.
Two-way partnership
When asked about his experience with Design Master support, Mr. O'Brien chuckles: "I rarely if ever call them. It's much more likely that they'll call me to get ideas for improvements they can integrate into their next upgrade.
"It's fun to be part of that collaboration, which has gone on since we bought the program. Another thing I enjoy is that, because this program engineers as you design, I've actually learned more about engineering principles by using it," says Mr. O'Brien.
Helps drive new business
"For electrical contractors like Current Electrical, our responsibility for communicating effectively with various entities about what we're doing out there on the jobsite is increasing every year," Mr. O'Brien observes. "Having a program like Design Master that can integrate many facets of the project into one design and provide clear direction is extremely helpful.
Mr. O'Brien explains: "Our business success is based on the success of whatever projects we're working on right now. We get our next project from the same customers we've been working with for years.
"How we present ourselves and how we communicate with the owner, the contractor and other professionals on that project through our plans and our design is critical. In that regard Design Master is a marketing tool for us, because it makes us look good and opens the door for the next project."
The right tool for our industry
"The plug-and-play intuitive usefulness of Design Master is right in line with how we run our business, as well as with engineering best practices," emphasizes Mr. O'Brien. "I've always been impressed that these folks actually know our industry and can create a program that fits so well with what we do and how we work.
"It's been an immediate benefit to me and the primary tool I use to do my job since the day we bought it ten years ago.
"Design Master Electrical is just the right tool for this industry," concludes Mr. O'Brien.