HNA Engineering
Memphis, TN
October 2015
---
Design Master Electrical "Brings It All Together" at HNA Engineering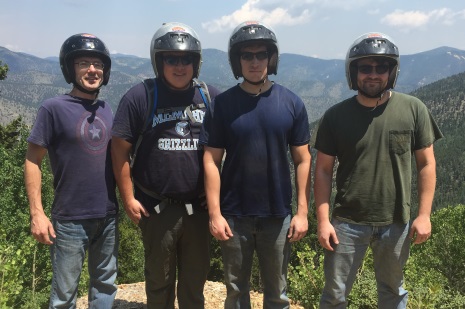 Left to right: Kenny Sutfin, Josh Holtgrewe, Thomas Hunt, and Ryan Halbert
HNA Engineering, PLLC is a multi-disciplinary engineering firm offering in mechanical, plumbing, fire protection and electrical engineering services. Based in the Memphis, Tennessee area, HNA focuses mainly on commercial, industrial, residential and education projects. In business since 2013, the firm currently has seven employees.
Josh Holtgrewe, PE, LEED AP, is HNA's senior electrical engineer and a partner in the business. According to Mr. Holtgrewe, HNA grew rapidly from the start. To support a "fast and lean" business model that would enable HNA to maximize profitability by taking on more projects, Mr. Holtgrewe sought to hire engineers and designers with strong experience using engineering design software.
A key addition to HNA's staff was Thomas Hunt, EI, who was a Design Master Electrical "power user" at his previous employer and implemented the software at HNA. "And we're so glad we did," states Mr. Holtgrewe.
"Easily doubles our productivity"
"We do a significant number of medium and small commercial projects, so the fixtures, receptacles and so forth are often similar across jobs," explains Mr. Hunt. "Design Master allows us to setup the blocks, connection points and other details in advance to save time—it's so simple and easy."
"But the feature we like the best is how the software automatically calculates and continuously updates the circuiting and panel schedules so we don't have to do it all by hand. That really speeds up our process.
"Today it's all about being quick. We get a job on Monday and it has to be done on Friday. Design Master helps us get projects out the door in a short period of time. It easily doubles our productivity," adds Mr. Hunt.
Kenneth Sutfin, electrical designer, echoes: "Before Design Master we were using spreadsheets and things like that to calculate our loads, and going back and forth importing all those details into CAD... Now I can do in a couple of hours what used to take me a day or even two days."
"Design Master helps us get projects out the door in a short period of time. It easily doubles our productivity."
Thomas Hunt, EI
Strong product support adds further value
"Another thing I want to comment on is the product support," interjects Mr. Hunt. "Every time I call I get someone who's very helpful and answers my questions very effectively. Or if I report an issue they send a patch usually within an hour."
"It's great to call a software vendor and actually be able to speak with someone right away and get results. That kind of responsiveness adds to the value of the software," Mr. Hunt offers.
Helps drive business success
"Ultimately an owner or architect hires an engineering firm not for what the engineers know, but more for the relationship and their level of responsiveness and timeliness," Mr. Holtgrewe observes. "Of course, inevitably it also comes down to cost as well."
"We're small and our overhead is low. Anything that can make us faster makes us more profitable, which also allows us to be more aggressive in going after certain projects. In all those ways Design Master has been advantageous to our business.
Design Master also reduces time spent correcting human errors because it eliminates so much manual calculation and management of data related to loads and panels. "A lot of projects we do get built and they go so smoothly that we rarely hear from the contractors or clients," Mr. Holtgrewe notes. "Software can never completely eliminate issues in the field, but overall we experience fewer changes than we would without Design Master—and I think our clients notice that."
From two or three projects per week to seven or eight
Mr. Holtgrewe summarizes: "Most of our volume of work is small to medium projects. A normal firm our size might do two or three projects per week. We're averaging seven to eight.
"I attribute a lot of that to Design Master and how we set it up, and the rest to our excellent team. Having Design Master really brings it all together."
"If we didn't have Design Master we would've had to hire several more people or turn work down," asserts Mr. Sutfin.
"I don't want to spread the good news about Design Master too much," Mr. Holtgrewe jokes. "If you can somehow filter this so that my competitors around Memphis and northern Mississippi don't get the information that'd be really helpful."