Consulting Engineering Service, Inc.
Winston-Salem, NC
September 2021
---
Design Master Turns Days of Revisions Into Hours at Consultant Engineering Service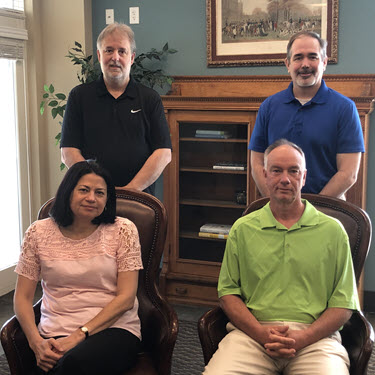 CES Electrical Engineering Team
Top left to bottom right: Ricky Hall; Tom Muse; Pauline Neils; Chris Stroupe, III
For over 50 years, Consultant Engineering Service, Inc., has designed MEP solutions for schools and universities, airports, commercial buildings, and everything in between. They currently employ four electrical engineers and designers, including Director of Electrical Engineering Tom Muse, PE. When he joined the company in early 2020, CES had just purchased Design Master Electrical after, as he understands it, looking for ways to streamline their revision process.
Highly Recommended
"With revisions to floor plans and equipment during the course of a project," Tom says, "[CES] decided that they needed software that could keep up with the changes a little better." At that time, making revisions with their software had been time-consuming and frustrating. Fortunately, COO Chris Stroupe, III, was pointed in Design Master's direction while working with an engineer at another firm:
"On a trip to look at a project in Raleigh, Greg Mulholland rode with me. He mentioned how [Design Master] was now in Cary, and they had a fantastic software package that is supported and updated regularly. Soon after that trip, I changed some mechanical equipment which greatly changed the electrical requirements. Greg did not yell at me! He said changes are usually easy. So we downloaded a trial version and have been using it since."
Chris Stroupe, III, COO
Tom estimates it took about three months to feel comfortable using the software. "I worked at a company where one gentleman had developed software written in C++," he recalls, "and we were kind of the guinea pigs as he was developing it." As a result, parts of the Design Master user interface felt familiar to him, which aided the transition. He attributes some of the growing pains to "basically just learning where the buttons were" and learning the intended workflows. With the help of his coworkers, Pauline and Ricky, and the Design Master staff, "implementing Design Master was straightforward."
Quick and Easy
Having used Design Master on most projects at CES, Tom is most grateful for the software's ability to calculate loads throughout the electrical system, particularly during revisions. In one instance, there were some last-minute changes that included adding panels, transformers, feeders, and branch circuits to the distribution system. "Having the calculations performed for us by Design Master only took a few hours," he says. "If we had made those revisions manually or with our previous software, it would've taken a day."
During another project, CES designed a number of science classrooms, which was a complex process: "We had to shunt trip the power in the room, turn on exhaust fans, and turn the water and gas off depending on the situation." Again, they were able to make it happen in hours rather than days.
He also appreciates how the software has improved the quality of their designs through wire sizing calculations that stay consistent across projects and multiple designers, as well as "standardized text, labels, line types, circuits, and schedules."
Additionally, the software's fault calculations make it easy for CES to determine appropriate AIC ratings for equipment. Tom hasn't had an opportunity to use the arc-flash calculations yet but hopes to dive in soon.
"I suspect whoever's behind the software has actually designed a project before."
Tom Muse, PE
From AutoCAD to Revit
A year after purchasing Design Master Electrical for AutoCAD, CES also picked up Electrical RT for Revit—and completed their first large project with it the day before Tom spoke with us. "It took a few weeks of watching videos and talking with Design Master and experimenting to make that happen," he says about learning the Revit add-in. "It wasn't as big a transition as going to Revit. The thing that was so great was the support that Design Master provided. That was very helpful."
He says the high level of support, paired with the software's user-friendly interface and workflows, is what sets Design Master apart from its competition: "I suspect whoever's behind the software has actually designed a project before. You can tell somebody has thought about it who's actually been around the industry." In closing, he remarks, "We've enjoyed using Design Master, and I think it's a very valuable tool. I think it's reasonably priced for the benefits, and I'd certainly recommend it to other design firms."