Matthews Consulting & Design, Inc.
Tuscon, AZ
November 2021
---
Design Master Electrical Saves Tons of Time for Matthews Consulting & Design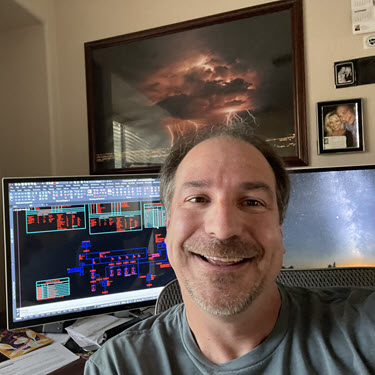 For over twenty years, Jeff Matthews, PE, has provided electrical consulting services for projects ranging from industrial to healthcare to commercial, and everything in between. "Pretty much anything that requires power in the building and construction industry," he says, "I've designed and worked on."
At the start of the interview, Jeff remarked that Design Master Electrical "helped me catch up on a few things, so I'm able to do this interview now." As it happens, it was a desire for more free time that first set him on the path to finding Design Master.
Becoming More Efficient
In early 2018, Jeff realized his work-life balance was suffering and needed a change: "I got to a point where I was so busy with work—I was working nights, working weekends—and I was just looking for ways to become more efficient." His search eventually brought him to the Design Master website. Upon finding and watching a few of the online training videos, he says, "I was totally intrigued. That's really what hooked me was looking at what it was capable of, and thinking, 'Wow, this could save me a ton of time on project design and get me in bed at a reasonable hour.' [Laughs]"
At the time, his workflow involved mashing together Microsoft Office tools and AutoCAD, to varying degrees of success. "It was all kinda quirky," he recalls. "Doing a lot of printing off stuff and marking it up and writing stuff down, and doing the math too." Using AutoCAD-integrated software like Design Master, he says, "I can print off schedules, make them look like I want, and show the information I need to show so quickly." He had considered a few alternatives, but says, "I never really saw anything that popped out at me like this software."
Incorporates as Needed
When Jeff started learning how to use the software, he was comforted by the wealth of information available to him. "There's definitely a learning curve," he says, "but after watching videos and reading through the tutorials and knowledge base, I totally knew what it was capable of." He also found it helpful to incorporate the software into his workflow a little at a time, remarking, "What's nice is you don't have to jump in 100%. You can actually do a design using parts of Design Master and still draft or do what you normally do until you get used to it."
Using this piecemeal approach, he would set tasks for himself to complete using Design Master. "As I did that, I got a very good understanding of how the software actually worked and where stuff was," he says. "One of the biggest things is figuring out where certain commands are and what does what. … As you go on, you're like, 'Oh yeah, I can see how this works, and how I can use it in future projects.'"
Using this task-based approach for a few hours each day, he estimates he was proficient with the software within a couple of months.
Ahead of the Curve
These days, Jeff gets the most time-saving mileage out of Design Master's intelligent device blocks. "Once you get a library built of receptacles and lights," he says, "all you've gotta do is drop them in the drawing. You don't have to then go to a spreadsheet and type in a load. That, to me, is the best thing. … [Also,] it makes circuiting a breeze. You just pick the devices you want on a circuit, and, boom, it's done." Thanks to those features and the ability to quickly generate the relevant schedules and symbol lists, he says, "I can knock out a fifty percent set of plans in no time." The system's intelligence also makes quality control a breeze: "There's a lot less missed information on the drawing. Circuits don't get forgotten anymore."
He also appreciates how easy it is to reuse old projects when a client needs a similar design. "Once a project is set up through Design Master," he says, "it's so much easier on the next similar project to [use the Copy or Backup Project command], copy it into another project folder, and everything's already there. You don't have to reinvent the wheel for every project."
"Everybody wants everything yesterday," Jeff remarks, "so the quicker you can get it done, and thoroughly done for that matter, it keeps you ahead of the curve. Design Master has allowed me to take on a lot more work than I could've handled on my own, and that, to me, is so invaluable."
"You guys are actually designing for my field; you know how I work and what types of tools I need."
Jeff Matthews, PE
Top-Notch
When he compares Design Master to other engineering software, Jeff says, "You guys are actually designing for my field; you know how I work and what types of tools I need. So it's geared more toward my industry than companies that try to blanket every industry and maybe don't really know the inner workings of it." Further, he adds, "Your customer support is top-notch. I can always get ahold of you guys. You're so responsive, which is amazing. I always feel like you guys are available in case I run into a snag."
Asked if the software has impacted how he works with clients and other industry professionals, he jokingly replies, "I guess I don't let them in on the secret that something they expect to take half a day I've already done in half an hour. [Laughs]"