RB Consulting Engineers
El Cajon, CA
September 2022
---
RB Consulting Engineers Uses Design Master Electrical to Transform the Skyline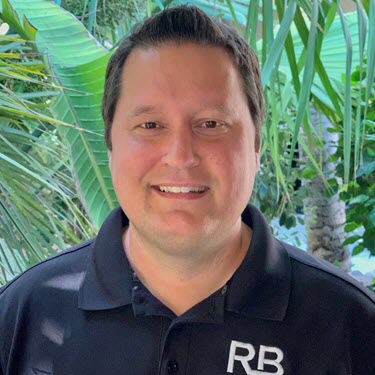 When Ryan Bertalan, LEED AP, PE, founded his own electrical engineering firm in 2014, he had more industry experience than most: "I've been in this business my whole life. My father was an exec for a big electrical contractor out here in California, so I've had the background from day one." Starting solo with a single Design Master Electrical license for AutoCAD, his business has expanded to (at the time of interview) eleven professionals with ten DM Electrical licenses between them. "Design Master is the reason we're able to do that," he says, referring to the growth of his business.
The company's portfolio includes commercial and multifamily buildings, as well as industrial, manufacturing, and medical facilities, with scopes ranging anywhere from a simple remodel "all the way up to big manufacturing buildings or 20-story high-rises in downtown San Diego—I mean, we're changing the skyline." In late 2021, they finished work on a plant for Quidel: "We just finished a huge contract for a giant COVID test kit plant out in Carlsbad. They're gonna make a billion test kit units in 2022. Using Design Master for the load calcs, the photometrics, and just getting it all tied together, streamlines that process. We only had four months to get it done because it was an Operation Warpspeed contract." Ryan recalls that the level of efficiency afforded by Design Master also helped land the contract in the first place, explaining, "They said, 'You're not one of the big guys, but if you can get it done….' We definitely handled it for that client, for the owner, for the architect who was pretty impressed by what we could turn out."
Ryan knew to incorporate Design Master from his company's inception because he'd worked with the software at a previous firm. "I was fortunate enough to be able to work in it, customizing the tools and things like that, so I quickly realized the power of what Design Master does."
"A Wonder Program"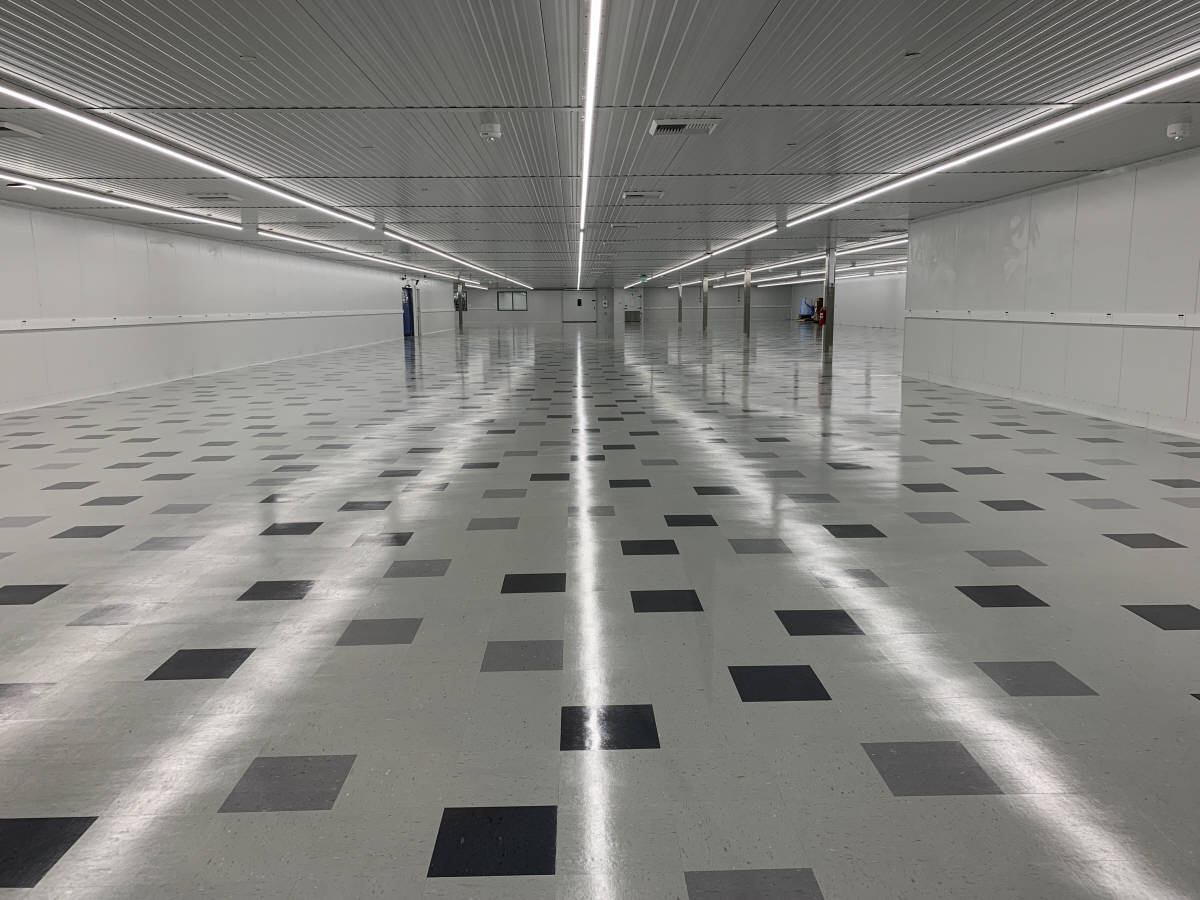 Figure 1: Quidel plant dry room
Courtesy of McFarlane Architects
"This is one quadrant of one
of the two large rooms."
Ryan Bertalan
Ryan explains that, while he remained familiar with the software, he hadn't used it in some time: "I left the engineering field for a few years, went to contracting, built some really cool projects, then went back to engineering. I wanted to know what the lines on the paper actually mean." Fortunately, he says that "when I came back [to the software], it wasn't too hard." After getting some questions answered by Design Master support to jog his memory, "I was able to build the whole library to the way I wanted it for my company, and we basically have used the same library with very minimal add-ons." He elaborates: "We fixed the panel schedules. The voltage drop and fault current schedules, we added some tailored notes at the bottom, which is actually really nice. As we all advance, fault current requirements are becoming mandatory, voltage drop requirements are becoming mandatory, and just having those extra notes on the bottom makes everybody's life easier."
Asked if he had considered any alternatives to Design Master, Ryan responds, "I wasn't even looking for other programs; it was a no-brainer. The subscription cost is reasonable, and it's palatable for a smaller company to expend that to bring in a powerful tool that gives you what you need for devices, fixtures, electrical calculations… the photometric calculations, that's another big one. Everybody has finally caught on that they need to see egress calculations in buildings. All these older buildings, people were just dotting emergency fixtures but nobody was actually following the Uniform Building Code or the California Building Code and ensuring there's proper egress." He concedes that, especially for new hires, "there's a little learning curve up front," but the acclimation process was ultimately easy.
"There was no doubt about going to Design Master," Ryan concludes, calling the software "kind of a wonder program for AutoCAD, which allows small-to-medium-size firms to start or grow because they're giving you all the features that you need in order to utilize AutoCAD to develop drawings for architects, clients, contractors, those sorts of people." He continues: "It's allowed me to get where I am today, and propelled me into the market to compete against the big national and international groups. And what's funny is those guys… have programmers on staff to write their own programs, and we're easily able to compete with them."
Absolutely Critical Calculations
Ryan says the breadth of its features, among other things, puts Design Master above other tools: "Whether it's power, lighting, switches, or mechanical systems, it's all right there. It makes it very streamlined to do big work really fast." Using lighting design as an example, he elaborates, "you can put room definitions on your plan, and you can put your fixtures in to get a rough idea of how much lighting you have in the space. And when you've gotta get technical you can run point-by-point photometrics on it."
He's also thankful for the calculations and scheduling the software performs. "That's absolutely critical to the success of an engineer. If you can't get those right, you're done. You mess them up, you get sued and go out of business. Here in San Diego," he explains, "there's a lot of warehouse conversions to office lab expansions… and the existing systems that were done in the 80's and 90's, they're 200-amp panels, but they can't hold 200-amp load with 5% voltage drop per code. And with Design Master, when we're doing it, we set it to [highlight] a 5% total for the whole circuit so nobody runs into issues down the road." Providing another example, he says, "We have a 20-story project downtown. The client is in Revit, but we still built the whole system through Design Master in AutoCAD to run all the fault calcs and load calcs, because Revit's calculations are subpar in my opinion."
"It's nice to know that if your user input is correct, Design Master spits it all out and it's perfect. There is no other program that does that."
Ryan Bertalan, LEED AP, PE
RB Consulting Engineers' motto is "Develop, Design, Deliver," and Ryan says Design Master's calculation and scheduling capabilities are integral to that philosophy. With Design Master, he says, "Our design is complete. There's no holes. We're not getting run through the grinder in plan check or getting RFI'd by the contractors for insufficient design information." As a result, he continues, "we can stand behind the product. We've had contractors say, 'well our calc is this.' And I say, 'you're taking it from a singular unit at this floor, and you're ignoring all the rest of the units that are contributing.' And that's what Design Master's able to spit out." He concludes, "It's nice to know that if your user input is correct, Design Master spits it all out and it's perfect. There is no other program that does that."
Medical Manufacturing Plants and Skyscrapers
Figure 2: 525 Olive
Courtesy of Greystar
Returning to their recent contract with Quidel, Ryan considers it one of his firm's greatest achievements—one that might not have been possible without Design Master. "They have these huge manufacturing bays that require a very controlled environment, so you're having to bring all the branch circuitry overhead from far away and into all the technical and medical machinery that develops these test kits," he explains. "You can't be under voltage on those machines, they have very tight limitations." He also remembers the strict photometric requirements for the space: "With the photometrics, they wanted 100 foot-candles in this 57,000 sf dry room, it's huge. It got real technical in a very short time." Using the software, they were able to bring it all together.
At the time of interview, his firm was also working on another big undertaking: 525 Olive. "We're building a tower that's eight to nine stories taller than anything else in the area," he says. "And we can take 200-plus units, tie them into the meter stacks, and run the calculations to get the fault current requirements everywhere and the voltage drop everywhere. And you know it's giving you accurate information."
Proven Track Record
Beyond what the software does for Ryan and his colleagues, he says it also puts clients at ease when they work with his firm: "It gives the architect the comfort of knowing the engineer they're using is gonna give them the correct product." He continues, "They care that we have a proven track record of delivering excellent drawings with the correct calculations that avoid contractors in the field going, 'oops, we need a bigger panel' or 'there wasn't enough lighting.'" As a result of their reputation, he estimates at least ninety percent of his business is from referrals and previous clients.
Asked who he thinks would benefit from using Design Master, he responds, "It's well suited for electrical. I'm not a unicorn, I don't have a mechanical engineering license, but I know there are firms out there that use it for electrical and mechanical… and they can be effective." He knows some people who left his company have advocated for Design Master's use wherever they end up, similar to his own company's experience, and he isn't surprised. "I can't say enough good things about the program, especially for any type of startup group trying to get into the market. It's a perfect platform, and it grows with you as you develop and amplifies your engineering capabilities."