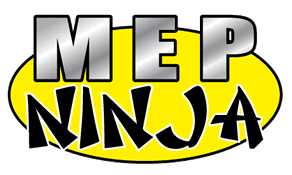 index
ABOUT MEP NINJA
WHY "MEP" NINJA?
MEP stands for Mechanical, Electrical, and Plumbing. It is an acronym used in the building industry. The folks who deal with MEP are the engineers and contractors responsible for the air conditioning, exhaust hoods, electrical receptacles, lighting, toilets, sinks and such in a building. It includes all the parts of the building that are not wood, concrete, glass, and carpet. Those are handled by the architect and the structural engineer.
WHY MEP "NINJA"?
Designed improperly or misused, the MEP systems of a building are quite dangerous —perfect for a ninja to take advantage of! Or not. We are experts in MEP design, but not ninjas. Don't trust anything we teach you about ninjas.
MARK ROBISON, PE, WRITER
Mark Robison is the president of Robison Engineering, a full-service MEP firm located in Shoreline, WA. He is a licensed electrical engineer and mechanical engineer. Mark has been practicing as a consulting engineer for over 40 years.
DAVID ROBISON, EDITOR
David Robison is the president of Design Master Software. His company develops software that aids in the design of MEP systems. He first started working with his dad, Mark, on the software in 1994.
DAVID ALLRED, ARTIST
Mark and David connected with David Allred through Elance. His artwork perfectly captured the style and feel we wanted for MEP Ninja. He constantly delights and surprises us with the images he is able to create from our written descriptions of the comics.