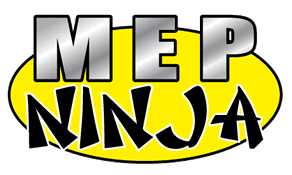 Beer Conduit
November 16, 2011

You recall the famous Pee-wee Herman bar scene from Pee-wee's Big Adventure, right? That's my favorite scene from my favorite movie. (You can watch it on Youtube if you've never seen it or want a refresher).
In this comic, we find the ninja in the basement of the US Green Building Council headquarters below the bar. The ninja sees a 4″ electrical conduit which he assumes must be the main power feed for the building. Instead, it turns out it is the conduit that carries the beer lines from the beer cooler in the basement to the beer taps in the bar!
Every electrical engineer knows that one of their duties as the engineer is to provide the 4″ electrical conduit for running the beer lines. It really is a conduit, and it really is installed by the electrician! But as the ninja learns, there are no wires in the conduit, just beer lines. And nothing angers a mob of LEED accredited drinkers more than cutting off their beer!
For once, the ninja is able to dance his way out of his situation, rather than being killed or captured. Don't expect this to happen regularly!
Mark Robison, PE