CFM and Sizing Calculations
Previous Feature: Fittings - Next Feature: Pressure Loss Calculations
Design Master HVAC integrates the duct sizing calculations directly into the drafting of the ductwork. You set the CFM values at the diffusers, define a sizing method, and the software takes care of the rest. Never spin a Ductulator again.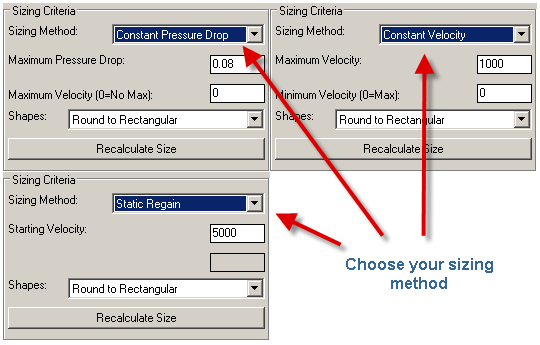 Choose Your Sizing Method
Choose the duct sizing method that is right for your project. You can even change how you size ducts midway through a system. Use static regain from your main air handler to the VAV boxes, and then slow it down using the constant pressure drop method.
Previous Feature: Fittings - Next Feature: Pressure Loss Calculations
19401 40th Ave W, Suite 302
Lynnwood, WA 98036
©2001-2019, Design Master Software, Inc