Outdoor Site Lighting Photometrics
Previous Feature: Interior Lighting Calculations - Next Feature: Arc-Flash Calculations

"Design Master enables us to do more with the same resources, and to work 'leaner and meaner'."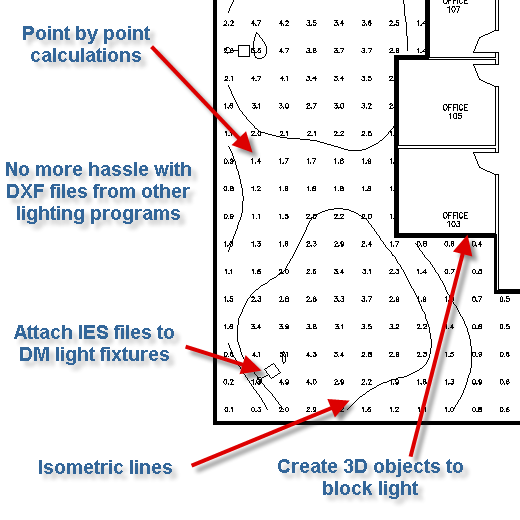 Point-by-Point Calculations
Point-by-point footcandle levels are calculated on your site plan.
No More Hassle with DXF Files from Other Lighting Programs
The entire photometric process is completed within AutoCAD. There is no need to transfer files from dwg format to dxf format to do the calculations and then back again to produce design drawings.
Attach IES files to DM Light Fixtures
IES files provided by the light fixture manufacturers are used to calculate accurate footcandle levels.
Set Footcandle Levels for Multiple Iso-lines
You decide at what footcandle levels will be drawn as isometric lines. If you need to be sure that you have at least one footcandle in all spaces, you can set an isometric line for one footcandle.
Create 3D Objects to Block Light
Create realistic landscapes with buildings, trees, and other obstructions to simulate the site plan.

Photometric Lighting Reports
A schedule of the important lighting level data that plan reviewers require can be inserted on the drawing. This schedule can be customized to include only the information you need.
Previous Feature: Interior Lighting Calculations - Next Feature: Arc-Flash Calculations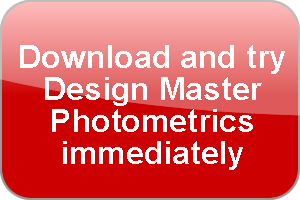 Request Free Demonstration and 30-Day Trial of Design Master Electrical