Equipment
Previous Feature: Devices - Next Feature: Switching

"I can work with a smaller team, make more money, get the projects I want, and turn changes around quickly for clients."
Create equipment symbols to represent any electrical equipment connections or on your project.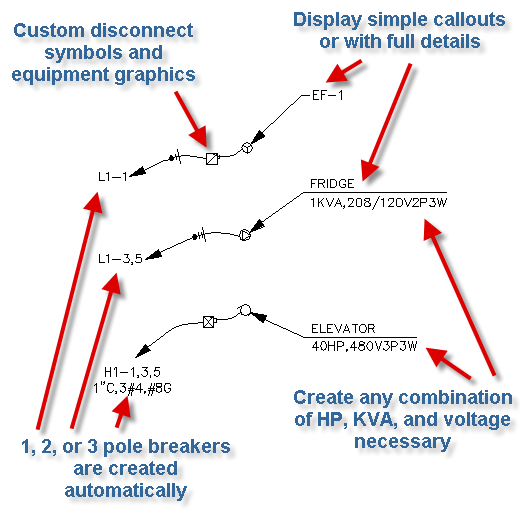 Custom Disconnect Symbols and Equipment Graphics
Design Master Electrical allows you to fully customize the look of your equipment blocks and match your company's current standards.
Display Simple Callouts or with Full Details
Depending on how much information you prefer to display, or how much space is available on a drawing, you can choose to show just the callout, or show all the load and voltage information.
1,2, and 3 pole Breakers are Created Automatically
When you are circuiting a piece of equipment, Design Master Electrical knows if a 1, 2 or 3 pole breaker is required based on the voltage of the equipment. The breaker is automatically created for you, speeding up your design process.
Create any Combination of kVA, HP, and Voltage Necessary
You can create any type of equipment imaginable. Air handlers, refrigerators, elevators, exhaust fans, ovens, and more can easily be built with Design Master Electrical.
Move, Copy, and Erase with standard ACAD Commands
Equipment and disconnects can be manipulated with normal AutoCAD commands. No special buttons are required. This reduces the learning curve and allows you to start immediately with familiar commands.
Equipment Schedule
A schedule of the equipment used in the project can be generated by the software. The content and information displayed in the schedule can be customized.
Previous Feature: Devices - Next Feature: Switching